Colour Notes
Following on from the award winning The Sewing Machine Project, Studio 21 artists have been working on a new challenge and the Colour Notes exhibiton is the result.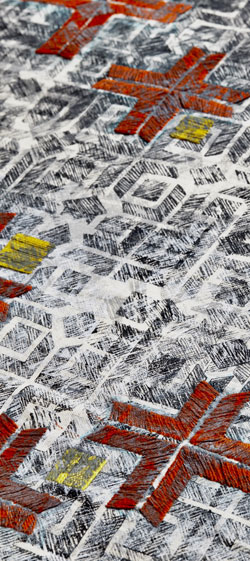 Colour Notes is the exploration of how each Studio 21 artist expresses and interprets their own response to colour through narratives and memories.
Instead of a riot of colour, the exhibition comprises a broad range of hues and tones in a varied imagery of space, light and shadow. All of the pieces represent searching and thought provoking responses to the effect of colour on each artist's life and practice.
Further information about the exhibition will appear on the Studio 21 Web site in the next few weeks.
The Colour Notes exhibition will be at the following venues in 2018:
Knitting & Stitching Shows:
11-14 October 2018 at Alexandra Palace, London
8-11 November 2018 at RBS, Dublin
22-25 November 2018 at ICC, Harrogate
Farfield Mill, Sedbergh, Cumbria
27 November – 31st December 2018
Other venues will be announced.
About Us
Studio 21 is a group of textile artists who bring together a creative and innovative mix of media and stitched textiles. The aim of the group is to develop and extend innovative techniques and to push the boundaries of traditional expectations in textiles.
Recently Studio 21 was identified as one of the Top 5 UK textile art groups by TextileArtist.com.
The group was formed in 1997 to develop and extend innovative techniques and to challenge and expand on the traditional expectations in textile art and stitch. This continuing evolution is achieved through a structured programme of monthly workshops and critique sessions.
Many members undertake further personal research, studies and courses; others work as teachers, lecturers and are authors of books and magazine articles. Members are regularly represented at textile events throughout the country, and are happy to consider invitations to give talks, workshops and courses.
Studio 21 Artists